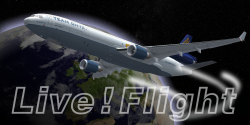 What is Live!Flight?
Live!Flight allows that everyone can track your flight in flight simulator in real-time, all over the world.
Your aircraft is displayed as a 3D-model in a map of NASA World Wind. For that purpose Live!Flight transmits position and flight attitude information.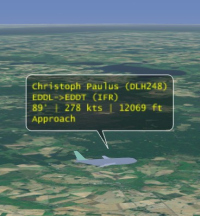 With a refreshing rate of two times per second you can see every aircraft's movement. A lot of more information like engine data, air route, aircraft lightning and flaps position is included in the detailed view. The chat allows a communication between pilots. Furthermore flights are recorded in KML-file for Google Earth.
The best is if you download Live!Flight and convince yourself of it! The free lite mode just transmits position and flight attitude information. If you want to transmit more information of your flight and want to chat with other pilots you have to upgrade your account to full mode. This costs once 19.94 €.
Screenshots of Live!Flight